Vehicle Ground Speed
Distance Measurements
Vehicle Crash Testing
Speedometer Calibrations
Powerful Torsion Spring
Extremely Rugged
Digital Pulse Output
HFW80 Fifth Wheel Sensor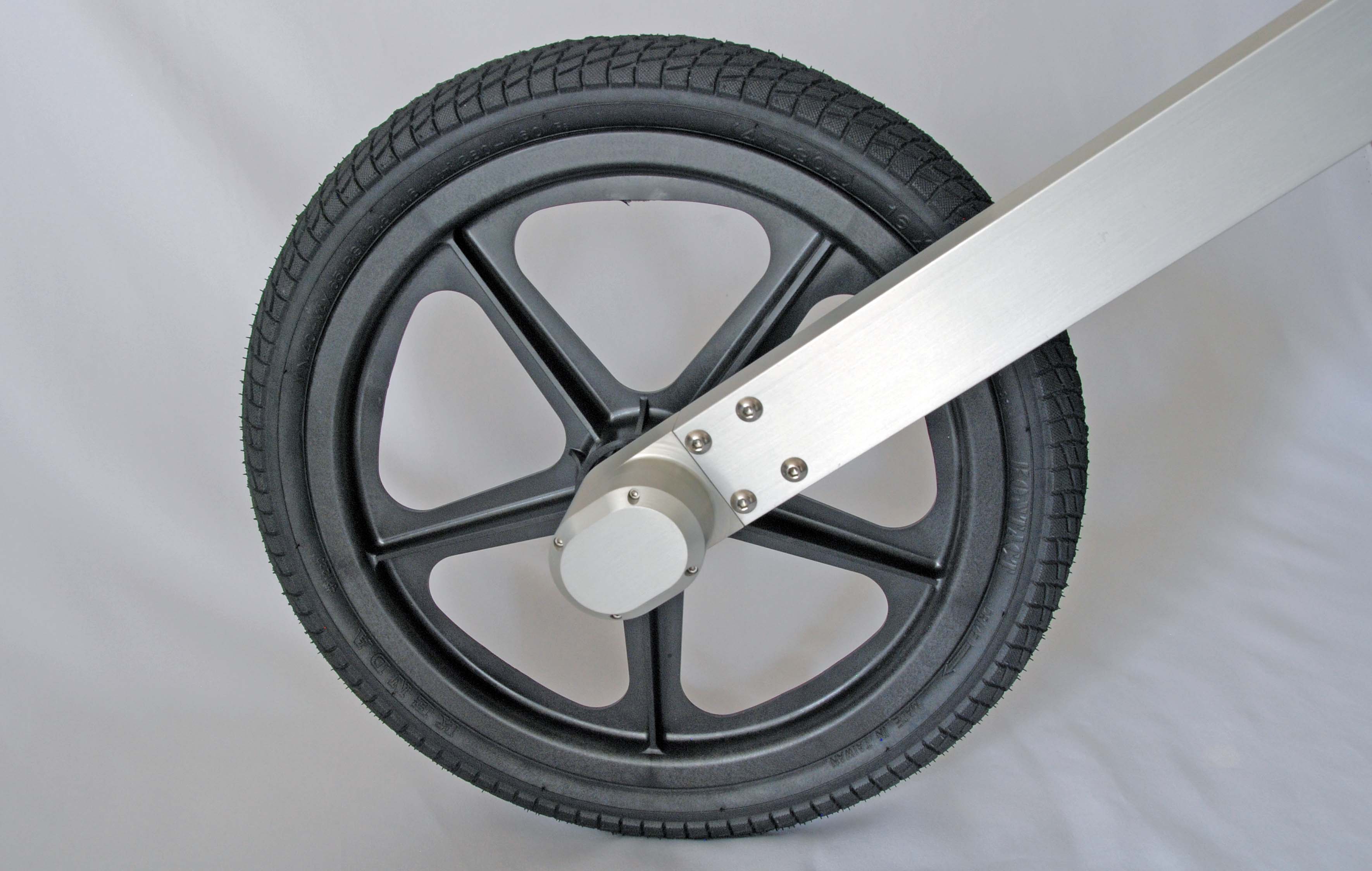 Designed for all types of uses involving vehicle speed and distance measurements, the HFW80 Fifth Wheel Sensor is accurate, reliable, rugged, and easy to use.
The fifth wheel features a high resolution optical encoder and low tire diameter growth to ensure excellent accuracy. A helical torsion spring allows a compact design and provides surface tracking by keeping the wheel in contact with the ground during dynamic maneuvers.
The fifth wheel is ruggedly constructed from high strength materials and precision components. Originally designed for use in the "high-G" environment of vehicle crash testing, the fifth wheel has also performed well in many less demanding applications including low speed measurements over rough terrain. It has proven reliable with a service record of over 10 years.
The output of the fifth wheel sensor is a TTL level digital pulse which may be used to measure either speed or distance traveled. Coupled with the GMH Engineering digital display, a complete measurement system is obtained. The fifth wheel also readily interfaces with most off-the-shelf digital tachometers, control systems and data acquisition systems.
Specifications
Output
Digital Optical Encoder
TTL Compatible
Counts available: 500 or 1024 counts per revolution
Temperature Range
-40 to 212° F (-40 to 100° C)
Speed Measurement
Range: 0 to 80 mph (0 to 129 km/h)
Accuracy: Better than 0.2 mph (0.3 km/h)
Cable
20 ft. (6.1 m)
4 conductor, tinned leads
Distance Measurement
0.1 in./pulse (2.5 mm/pulse) with 500 count encoder
Material
Arm, Body & Mounts: Anodized 6061-T6 aluminum
Axle: Heat treated tool steel
Pivot Pins: 303 SST
Tire / Wheel
~15.5 in. (39.4 cm) O.D. pneumatic tire
16 in. ABS thermoplastic
Length
Overall Length: 44.25 in. (112.4 cm)
Swing Arm Length: 32.25 in (81.9 cm)
Tire Growth
Less than 0.5% at 50 mph (80 km/h)
Mounting Plate Dimensions in Inches

Fifth Wheel Dimensions in Inches